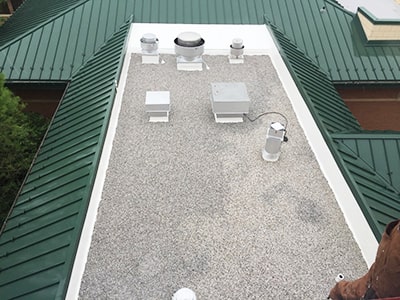 Bollinger Bros Roofing Contractors are your experts when it comes to industrial roofing. We'll work with your architects and contractors to develop a customized roofing plan for your new industrial construction. Or, we can assist you with you existing industrial building that requires a new industrial roof, roofing repairs, and/or roofing emergency services.
Due to the heavy demands of industrial roofing this type of job requires the latest in industrial roof removal and installation techniques and equipment.
Bollinger Bros Roofing Contractors is uniquely equipped to meet all kinds of roofing needs. And we possess the work ethic and dedication to see every job through to its successful conclusion.
Bollinger Bros Roofing Contractors offer the following Roofing Services:
Industrial/Commercial/Institutional Roofing Installations – Whether you are building a new structure or roof replacement we offer the following roof systems: EPDM (rubber), TPO, PVC Roofing Systems (single ply), Built-Up Asphalt Roofing Systems, Pre-Engineered Metal Roofing Systems, Copper Roofing, Fluid Applied Membrane Systems, Slate and Tile Roofing Systems.
Solar Panel Arrays
Rooftop Wind Turbines
Green Vegetative Roofing
Industrial/Commercial/Institutional Roof Repairs
Bollinger Bros Roofing Contractors also has a partnership with today's top roofing system manufacturers, including:
Barrett Roofing Systems – Fluid Applied membrane systems
Carlisle Syntec – EPDM roofing systems
Firestone roofing systems
Tremco-Cold applied built-up roofing system
Sarnafil
GAF